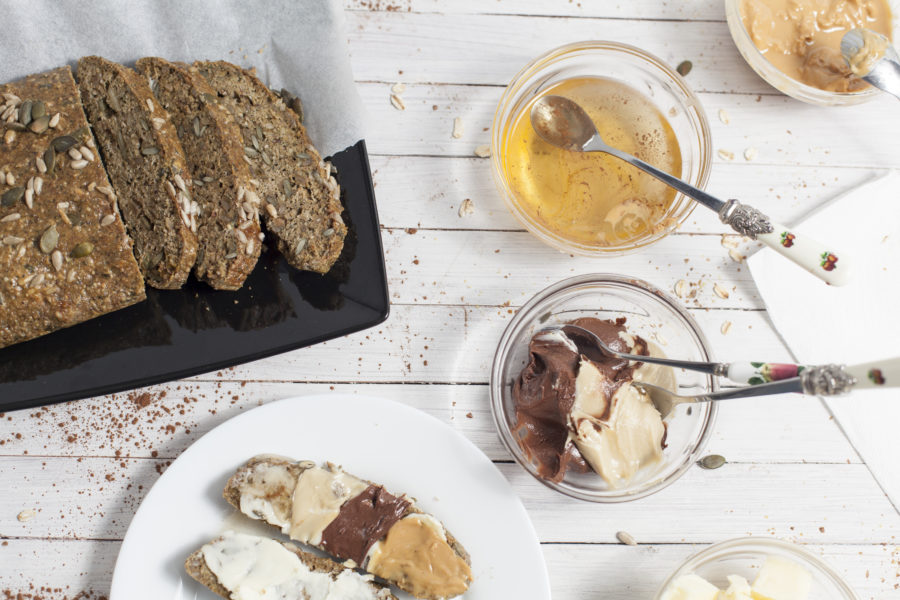 I started making flour-less bread only a year ago. And I am not committed to any kind of diet, so it is not my choice number one. Well, I guess I am making this bread when I want to satisfy my boys (we usually eat it with honey, peanut butter, tahini). But you can totally eat them along with your lunch as an alternative of white bread (just don't put cinnamon).
The recipe is pretty easy to follow and it does not leave your kitchen that dirty! What I mean is that you only need a food processor, bowl, and a spoon. So if you want to make some changes and be a healthier you this fall, go ahead and make the flour-less bread instead! It really is tasty and contains a mixture of seeds, so it instantly makes you healthier and happier!
My husband's a huge fan, so I make it from time to time. But the reason I first started this is my son. When he turned 1 he was already eating any kind of bread that was given to him. I guess eating by yourself is so interesting for young children. So, the bread was a real hit! He ate a lot the night I made it for the first time. And I truly recommend this flour-less bread from time to time to every single person who wants to make some changes.
As written earlier in this post, it is flour-less but it contains seeds. And seeds are so good! I put chia seeds, pumpkin seeds, sesame seeds and flaxseeds. Chia seeds are seriously a number one among seeds. They are high in fiber, and omega-3 fatty acids. Pumpkin seeds are a great source of B group vitamins, magnesium, iron and zinc. Hold on to them during fall, they are a hit! Sesame seeds are high in protein and also a great antioxidant. The last, but not least, are flaxseeds. This is very important for women. I usually use ground flaxseed. They contain fibre, omega-3 fatty acids, and can help prevent cancer.
Flour-less bread recipe
Ingredients
2

tbsp

chia seeds

2

tbsp

ground flaxseeds

50

g

pumpking seeds

2

tbsp

tahini

4

eggs

2

tsp

baking powder

2

tsp

cinnamon

(optional)
Instructions
Put one half pumpkin and sunflower seeds in a food processor.


When done, transfer the mixture to a bowl and add another half of both sunflower and pumpkin seed and stir.


Then add ground flaxseeds, tahini, eggs, and baking powder (and if you want, cinnamon). Stir it all well.


Transfer on to a baking sheet and bake for 30 minutes on 190C.

I hope you will enjoy this easy recipe as much as we do!
Save
Save
Save
Save
Save