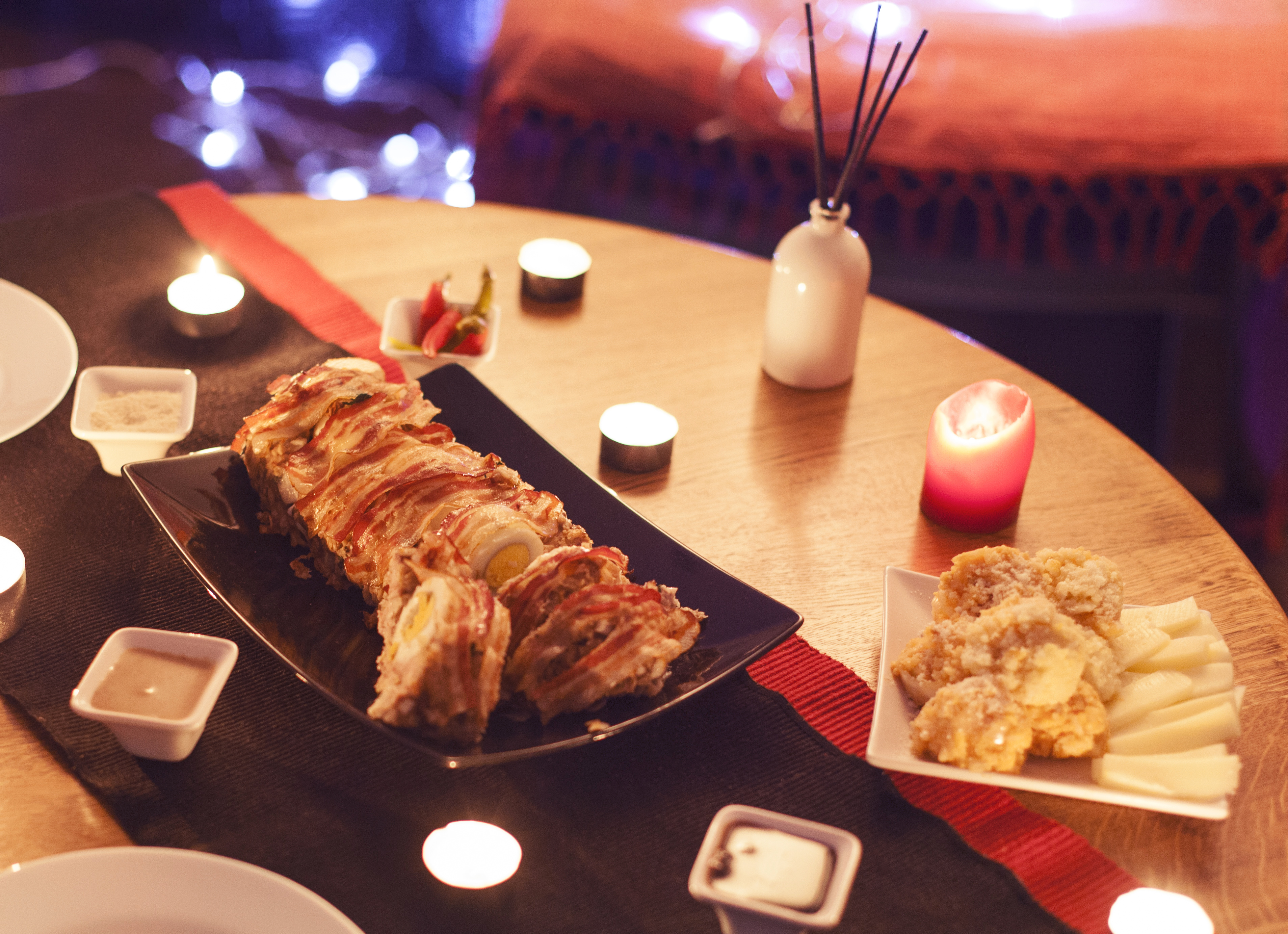 Romantic dinner is not only for weekends. And it's not only a movie night and popcorn time. Or ordering Chinese food when things you should do are written down and waiting to be checked.
That night I said to myself: Well, you really don't know how it works if you are always impatient with your time. I am one of those who just cannot sleep if the house is messy. But it is OK if you break the rule sometimes. I did some cleaning, but I didn't wash the dishes. I wanted to feel spontaneous. My husband was in his room, practicing guitar, and I was supposed to do something for myself. I really missed him these days. And by the way, he was so tired. So I figured out I could serve him something manly, with a huge dose of femininity and a lot of love.
It was already late and I thought about something easy and fast for my romantic dinner night. I set up the table and serve the dips and my rice and millet balls. They are the easiest! You just cook rice and millet separately. Rice should be cooked until the bubbles appear (one cup rice, two cups water), and millet should be cooked around 15 minutes (one cup millet, three cups water). And then you oil a pan and put them together with cayenne pepper and salt. After only 5 minutes, you can make your balls!
Now- the main dish! This may look difficult, but it is pretty easy to make and very special. What do I mean "very special"? Well, have you ever tried meat with oats? My family eat oats a lot and this is why I came up with this recipe.
Special meat and oats roll for a romantic dinner
Ingredients
300

g

ground beef

100

g

old-fashioned oats

100

ml

milk

1

onion

1

clove

garlic

10

g

parsley

100

g

bacon

5

eggs
Instructions
Mix oats with milk and set aside.


Mince onions and garlic and chop parsley. Put it in bowl with oats and milk.


Then add to that same bowl meat and 1 egg, season with salt and pepper, and mix them all together.


Put the mixture in oiled baking pot and add eggs in the middle.


Close it with bacon over.


Transfer it to cooker and bake for 30 minutes.

Of course I knew the night would be even perfect if I make a dessert. And I opened a fridge, took the ingredients I had that night and layered them in glasses. I used peanut butter, cream, biscuit, dark chocolate and halvah. My romantic dinner was perfect, and we had a great night even though we needed to stay home while our son was sleeping.
Save
Save
Save
Save
Save
Save
Save
Save
Save
Save