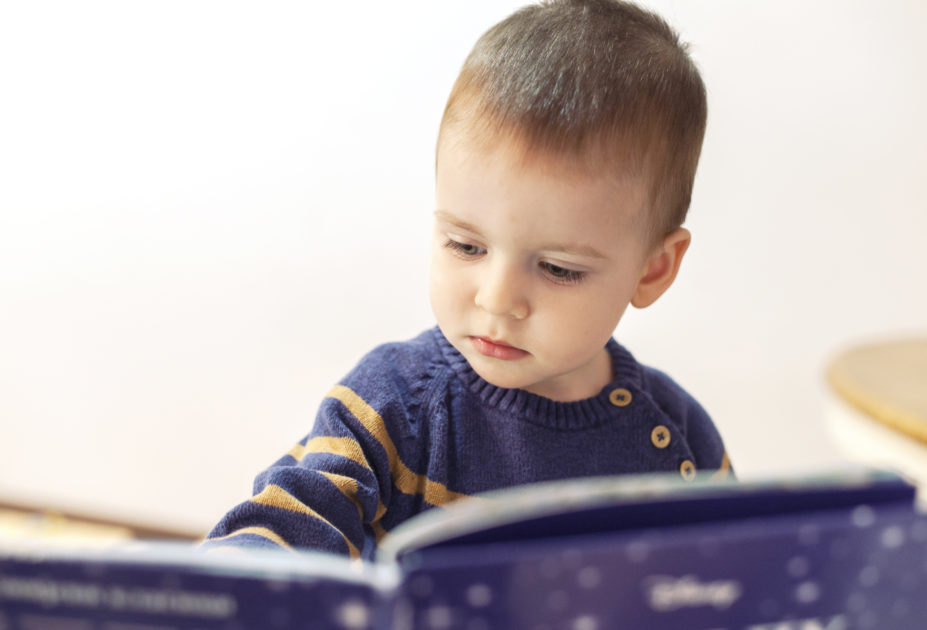 Actually, our son began to develop his creativity long before he was born. First thing I knew I had to do was to detoxify my body before getting pregnant. When I finally found out about the little human that's growing inside me, I started to influence on him. From healthy eating (omega-3 fatty acids are of great importance for the brain development), and all the way to classical music and talking to him. When he was born I spent a lot of time reading, singing and exercising with him. He is 18 months old now and it is much more fun to learn anything these days.
The basis of everything. Many of my friends say that they knew all the letters, plus to read when they were 3 years-old. I was like them too, I also knew how to write the names of all family members (I wasn't always writing correctly). It is so true children have their own logic. When you are this young, letters don't mean so much. But what I see, they are small people with great photographic memory. My son knows how to read "mom" and "dad". He is not always interested in showing it, but there were times he really surprised us. But why are we so surprised about these information? Long ago we realized that children this age absorb knowledge like a sponge.
You can write to them any time they are interested. The alphabet song is also a good, funny way of learning. There are also many toys that help children to talk and read. Our choice number one is this singing book. He likes everything about it, and he plays with it a lot. Another great toy is puppy toy that sings and tells letters, colors, imitate animals etc. Cards are probably the best option, since children love learning visually.
How to develop love for reading books?
First and foremost, you should always remind yourself of the fact that a little child cannot keep an eye on the same thing for a very long time. To hear the end of the story- probably the most difficult task ever! Don't force. If your child runs off to hug his bear, you will have to put the book away until tomorrow. It's not that he doesn't like reading. Children of that age change their interests every few minutes. But, there ARE several shortcuts that may help develop love for reading.
APPROPRIATE BOOKS. Meaning- books with big and bright pictures and short text.
SET THE RIGHT TIME. Usually, it is early in the morning or at bedtime.
BE LOUD ENOUGH. And funny too. Imitate animal sounds, and be happy.
BE CREATIVE. You can always "read" pictures, making kind of stories your child likes.
INCLUDE A LITTLE PRINCE OR PRINCESS TOO. Identify them with a character from a book and encourage them to repeat after you. Let's develop their imagination!
BE A ROLE MODEL. As simple as that. If you read in front of your child, your child will love reading.
How to develop mathematical skills?
I am pretty pleased with the book How to Multiply Your Baby's Intelligence written by Glenn and Janet Doman. As expected, the book says that numbers aren't of great importance to small children. If you place 5 carrots in front of your child, he will know the number of carrots. If you place 55 carrots in front of an adult, he will not be able to tell how many carrots are there at that exact moment. But a toddler will. It is because we learned symbols, not facts. 55 carrots on the table is the fact. A full programme on how to teach your child various skills is described in this book.
How to develop creativity?
CHILDREN… They are so small, but they are everywhere. How curious they are!
My son broke his plate once and had that curious look on his face. Since he hasn't seen anything broken until that moment, I couldn't yell at him. I told him it is bad to do things like that on purpose, but I must admit I was scared that I reacted wrong. It was a foolish fear. He never threw a plate again. He also likes to put things in the washing machine. Guess it's exciting to see what's gonna happen if we wash mommy's deodorant… A terrible childhood is a childhood where a child cannot do things on his own ways. Parents should always show how proud they are of their curios explorer.
We should allow them to develop their creativity. Of course that we must be their strength when they are confused about what is good and what is bad, but we can't ever look at curiosity as a boring thing.
Always make sure to answer your child's questions. Let them see different things like concerts for kids, zoo, museum. Let them choose apples and put them in a bag. Go to the park and swing, play with sand, wave at birds.
Most importantly, let you child be similar to you. Don't take him away of his will to eat alone, and support things he's imagining doing.
We always encourage our son. When we are drinking coffee or tea, we let him smell it and pretend he is drinking coffee instead of water. But we say to him that he can't touch hot cup. A "great job" phrase has become motto in this home. When he's using a deodorant instead of microphone, when he's playing his guitar in a not so proper way (because it is heavy and he can't handle it). When he draws circles and pretends that he is reading (most often mumbles something). All those actions end up with a "great job" phrase. Many times, he plays with things that aren't there. For example, he pretends to catch a bug and he gives it to me or throws it away. He also pretends there is someone in his car toys. I usually comment something funny on everything, so that he knows it's ok to imagine.
Save
Save
Save
Save
Save
Save
Save
Save
Save
Save
Save
Save
Save
Save
Save
Save
Save